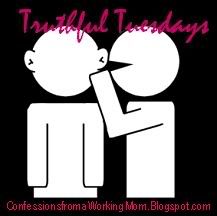 Elizabeth over at Confessions from a Working Mom started this carnival and I am finally jumping on board! I really wanted to post last week when she asked her readers if they would ever get a boob job. I didn't have time to blog last week but I have to answer the question. Even after breastfeeding for 14 months and still going strong, I still don't think I could have any elective surgery. I hate medicine enough as it is, so I really don't think I could voluntarily go under. And ever since last Tuesday this song has been in my head. So this week Elizabeth asks what we
really
want for Christmas this year. Her little girl was born just a few weeks before BBZ, so we both had some baby-making happening around Christmas 2007. For us it was actually Christmas morning. This is me at Christmas Eve in December 2007 holding my youngest 2nd cousin.
At the time I was on myspace and posted this picture. A friend I have known my whole life commented on it saying how wonderful I looked holding that baby on my lap. I commented back that I was having crazy baby fever. N and I weren't trying at the time, but we were hoping to start trying in Spring 2008. I got pregnant the next morning! It was the best present that I didn't even know I wanted. Last year BBZ was my only priority. We did a lot for Christmas, but I don't remember seeing our family open presents at our gatherings. My focus was completely on him, my precious baby boy. The best present there was!
This year was amazing. He changed in so many fun and exciting ways! Looking at him a year later makes me really realize how precious life is and how fast it goes by. He was so sick in July of this year. He changed into a different child after his tragic sickness. He went to the hospital and they fixed him. He is healthy, and happy, and the absolute love of our lives. All I want for Christmas is to see him smile when he opens the things we pick out for him. I want him to bring a book to his daddy and ask him to read to him. I want him to close his eyes and stick his neck out to kiss me when I ask him to. I want 2 weeks of vacation to spend with him. I want to wake up each morning as happy as I am when I fall asleep. Is that too much to ask for? No? Then I'll take this too...
...you know you are grown up when you ask for cleaning products for Christmas.